Deepings Swimming Club achieves SwimMark accreditation until 2020
08/03/2019
Deepings Swimming Club has successfully achieved its SwimMark accreditation for the next 12 months.
SwimMark is a club development tool managed by Swim England. It is a recognised quality mark throughout sport which ensures clubs are effective, ethical and sustainable, and create the best possible swimming experience for all, raising the quality of aquatics provision.
The opportunity to gain SwimMark 'essential accreditation' is available to all clubs, across any aquatic discipline (including Masters), regardless of size and activity delivered. It offers national recognition that Deepings Swimming Club is providing a quality service for all our members, which is rubber-stamped by Sport England.
All clubs with SwimMark automatically receive Clubmark status, which is widely recognised by potential funders, schools and other partners that can assist with club growth and development.
To achieve SwimMark essential accreditation, Deepings Swimming Club needed to submit information for 16 'elements'. These included details of our development plan, budgets, codes of conduct, equality plan and training programme.
We were also required to provide our records of safeguarding training and DBS checks for coaching staff and poolside helpers, plus the continuing professional development of head coach Lynn Chapman.
The elements are reviewed and approved by the regional development officers and then by a regional and national panel. Accreditation lasts for two years, although a health check of five 'essential' elements need to be completed in the interim year.
Clubs that are SwimMark accredited are able to use the SwimMark logo on publications and club marketing material.
The club would like to thank everyone involved in its submission for this year, particularly head coach Lynn Chapman, welfare officer Claire Spooner, chairman Steve Tappern and club development officer Sam Peeroo.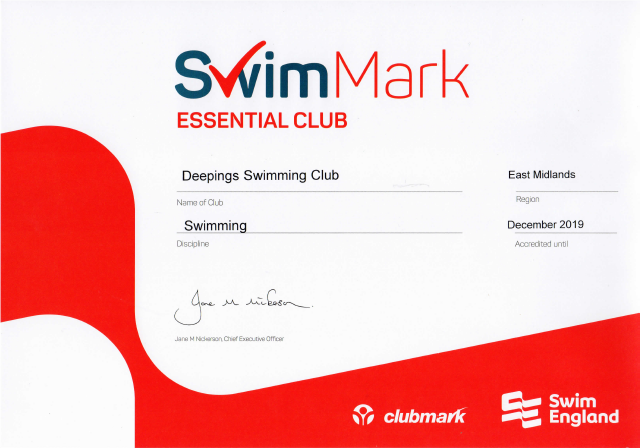 ---